Sharapova news and something about her personal life..
REAL NAME: Maria Yuryevna Sharápova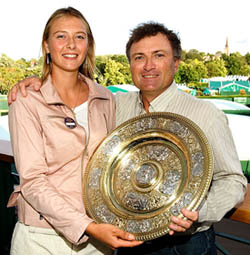 BORN: April 19, 1987
Sharapova is a Russian professional tennis player and a former World No. 1. As of November 19, 2007, she is thefifth-ranked female player in the world. At the end of 2006, she was the world's highest-paid female athlete.
Sharapova has won three Grand Slam singles titles. In 2004, she beat Serena Williams to take the Wimbledon title at the age of 17. Two years later, she defeated Justine Henin in the final of the 2006 U.S. Open. At the 2008 Australian Open, she beat Ana Ivanović in the final.

The Chernobyl nuclear accident in 1986 compelled Sharapova's parents, Yuri and Yelena, to move from Gomel, Belarus, to the town of Nyagan in Siberia, Russia to live with Yelena's father Sharapova's father brought her to the United States when she was seven years old, to attend the Nick Bollettieri Tennis Academy in Bradenton, Florida
Her mother, Yelena, could not come with them because of visa restrictions, and followed two years later..Sharapova has lived in the United States since then, but retains her Russian citizenship. She has a home in Manhattan Beach, California.
In 2005 during a photo shoot for Canon, a lewd photo was taken of Sharapova without her knowledge by Japanese advertising agency Dentsu. The company currently has a lawsuit related to this incident.
maria sharapova tennis news: 2008
Israel's dreams of recording a Fed Cup shock against reigning champion Russia were dashed on Sunday after two sensational performances by Maria Sharapova and Anna Chakvetadze at Ramat Hasharon.
Russia too strong for Israel
Shahar Pe'er and Tzipi Obziler gave all they had against the Russian stars, who are ranked No. 5 and No. 7 in the world, but were both outplayed by superior opponents.
A clinical display by newly-crowned Australian Open champion Sharapova limited Pe'er to a mere two games in the first match of the day, with the Russian winning 6-1 6-1 to give the visitors a 2-1 lead in the tie.
Obziler knew she had to defeat Chakvetadze in the final singles match of the tie to force a decisive doubles encounter, but despite winning the first three games of the match, she lost 6-4, 6-2.
Sharapova said. "She's a defensive player and I'm more of an offensive player. I had a few nerves in the end of the match and I'm happy I managed to close it out. I felt that I played really good tennis and even though 95 percent of the crowd was against me, they respected me."